---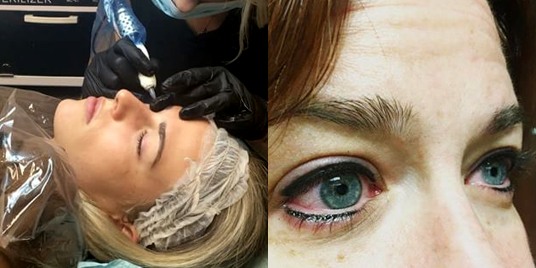 Microblading in Dallas is the Latest craze in Permanent Makeup
---
Demi Semi Permanent Make Up tattoo and clients are going gaga over microblading results!
Micro pigmentation is implantation of hair like strokes into the dermis creates a fuller thicker brow with better shape especially for those with thinner brows or those that grow un-evenly. Without the hassle of having to apply makeup into the brows every day the client can achieve a fabulous flawless convenient look. Corrie Courville esthetician owner and artist will create a custom design of placement, size, shape, color & texture for each client that will leave you looking younger and enhancing your natural beauty.
What is Microblading exactly?
This newest form of tattooing is applied by hand making it more Demi semi permanent than machine work. Hair like strokes implant pigment into the skin with a hand tool of 7+ needles for the best effect. Once the six week color boost session has been reapplied to lock the color down for the long-haul typical microblading results will last 12 to 18 to 24 months. This is predicated on environmental exposure, lymphatic system and will vary depending on dark or lighter pigments. Compared to traditional machine work (rotary or coil) that last 4 to 6 years this Microblading method looks the most natural and is the least of long-term commitments. Traditional machine work like "powder fill shadow shading of the brow" and "hair strokes applied by machine" are also available at this studio for a client that desires the longer lasting results avg. four- six years.
Microblading Reduces the time to get ready every morning
We all have two eyebrows ….some grow perfectly symmetrical ones ….for the rest of us most of us grow the unicorn in the donkey. This makes getting ready in the morning very difficult (fighting with applying  them, trying to achieve symmetry and feed your kids and get across town) and get to work on time! All women and men can benefit from time safe getting ready in the morning.
Microblading and Hair loss
Alopecia, thinning hair, age and maturity, over plucked, genetics, chemo… there a list of reasons why many have thin or nonexistent or uneven brows and microblading solves all of it providing a natural looking Brow.
Microblading is Virtually painless
A very high-grade compound blend of lidocaine, tetracaine and benzocaine is applied and numbing of the area for 20 to 25 minutes prior to implanting the pigment. Once the dermis is open the technician will reapply a lidocaine epinephrine to keep the client is numb and painless as possible.
Research on Microblading
Do your research and read providers licensure, portfolios, pictures and testimonials online. Make sure your artist is also a licensed professional by TDLR.  Not everybody who offers this service is licensed to provide blood-borne pathogen services & health and safety monitored and regulated by the state. Corrie Courville is licensed by the state of Texas and by the health department as a tattoo artist.  Corrie Courville has reviews and testimonials listed not only on her website but also on Google, Yelp and on StyleSeat. Pictures found with portfolio on Instagram and all of the links provided below. Compare your providers, service times, prices & portfolio work. Be wary of people who only post trick shots from weird angles and a distance. Look for extremely clear before and after photos & make sure you're in love with the customized style and that it suits you. Do not take any gambles on amateurs …It is your face!
Before you tattoo
It is crucial you visit the website and pre-read the "before your procedure paperwork" by following all guidelines to ensure your body is aligned for perfect healing. There are prescriptions and supplements that may interfere with healing.
 Microblade safety in Dallas
Microblading is extremely safe in the specialized hands of a licensed professional with experience. Feel invited to call Corrie Courville for verbal questions over the phone or schedule a consultation face to face and or your first microblading appointment by clicking the link below.
Be excited about the best microblading in Dallas
Beautiful convenient you is only a few steps away! Not to look like a different person but the best most beautiful version of you, effortlessly daily!
Find out how we can help make you more beautiful and Contact Us NOW!
Tags: microblading, permanent makeup